I had special guests over tonight for the Idol watching.  We will just refer to them as "The Freaks at Table 9" aka, the Brauns!  And here are the reviews…
Luke Menard
So this guy is just smarmy. Almost statutory. He's just a little weenie. But the singing just wasn't good, and he has yet to pick a song that he actually sounds good on. He should really go back to trying ballet and the tutu.
David Archuleta
Wow. How can you top what you did last week? This was a great song choice, and the vocal was awesome. There are these split second lapses in pitch accuracy, but other than that, amazing. This guy has it sewn up for the guys. He's in the top 2 or 3 for sure.
Tamara says, "Dude, this guy wasn't even born in the 80's!"
I will say that his little shtick about what goes through his head when he sings the song was a little over the top. This kid is 17… what does he know about poverty and world hunger and healing the world! I say, "who is this guy, Bono junior?" The freaks at table 9 say, "just get him some shades."
Danny Noriega
"Our cute little tomato" Did you notice the little catwalk walk out again this week. He's workin' that 'alternative' vote hard! Tainted love… I feel tainted myself. Do I need a chemical bath after that song?
So the thing is, the vocal isn't too bad – but you just have to close your eyes and not watch the man himself. The last thing is this kid needs is purple highlights in his hair… next week he might come out in fishnets and a leather hat.
David Hernandez
Ok… David broke AI Cardinal Rule #1… never sing Celine or Whitney. Never. You will never do it better than they did. He actually even copied her malformed syllables. He's got a great voice, but the song was too big for him, I think. He is a good singer, and should continue, though.
Michael Johns
Mascot work!!! A rugby mascot?!? A kangaroo Rugby Mascot – above all things?!? And he got beat up for it!?!  HA HA HA! He probably deserved that…
His voice kind of sounds like it belongs in the 80's… it has that dirty rock timbre to it. Generally, though, he isn't really that spectacular to me though. I have been very lukewarm on him for this whole competition. If he just keeps picking the right song, though, he will continue to go the distance.
David Cook
Now this is was a really slick performance. Perhaps the best performance of the night, definitely the most creative. Way to go out on a limb! I thought the style was just perfect, and he totally brought his "A" game against the little Archuleta boy. My only beef with the song is it looked a little too over-rehearsed. He'd obviously been spending too much time practicing this in front of the mirror with his little slanty lips and smoldering eyes.
Jason Castro
After consulting with the freaks at table 9, we came to the conclusion that Jason "looks like the love child of a princess… and an elf… and a hobbit." I don't know… you decide: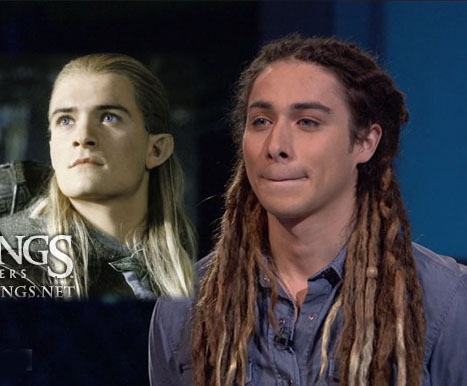 As for the singing, the Jeff Buckley "Hallelujah" is one of my favorite songs of all time, so there was room for nothing but some disappointment. I thought it was all right… Paula says he made it look effortless, but the truth is he made it look 'effort-full'. He just pushed too hard for it. I'm not going to go as far as Simon to say I loved it.
Chickezie
This guy has to stay in it. He's the underdog favorite of mine.  He's at a serious risk of going, because of the strength of all the other contestants.  But this brother can blow, and he deserves to stay in it another week. I really like his style, even though his song choices have really been lacking.
Predictions
Who should go:
WhiteEyebrows: Luke, Danny
Cornfed: Luke, Jason
Cornfed's Wife (I need a better nickname for you): Luke, Danny
Who's going to go: Luke and Chickeze
Best of the night: David Cook, David Archuleta
Of all the performances of the night, though, the highlight was when Cornfed sang "Say You, Say Me" during a commercial break – in homage to his idol, Lionel Ritchie.
This one's for you Braun: