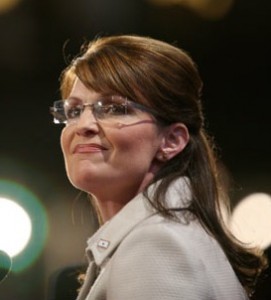 I have come to a conclusion regarding Sarah Palin: she is not ready to be a 71 year old heartbeat away from the Presidency.
Her 'attack dog' act knocked my socks off at the convention, but now I am highly doubtful of her readiness for this meaningless campaign and this meaningless office. The "hockey mom"/"lipstick on a pig" thing is really cute, and a refreshing change of pace for our political scene.  She might still have a bright future in the Republican party (if she doesn't mess this bid up too much).  I just think she was thrust into this a little too soon.
Her debate performance against Biden was just OK.  She got her butt handed to her in the foreign policy section.  It wasn't because she didn't know names, dates, or have personal anecdotes to share – it was her lack of a cohesive response on the way forward in the war on terror.  Her entire answer to the question of the way forward focused on the past, while Biden talked about some realistic, concrete plans for the future.
Palin sounded desperate in her constant attempts to change the discussion from what Gwen Ifill wanted to talk about to what she wanted to talk about: Alaska, taxes, and energy.  Good for her for sticking to her strengths, but I have news for her and McCain… there is a lot more to running this country than Alaska, taxes, and energy.
Plus… she said "nucUlar" twice… And as I always say… twice is no mistake.  This formally puts her in the dog house with me.  (And not the good Randy Jackson "dawg" house, either…)
Sorry Sarah… Can we just be friends instead?