Tonight was a slightly disappointing night given the complete liberty the contestants had. Perhaps this actually shows that either 1) they really don't know who they are as artists yet (even though they are infinitely more talented than last year's group), or 2) they are just total idiots.
Let's dig in.
Michael
This wasn't a bad start for the show, but still a bit boring to me. It all sounds like a wannabe, like some guy who wanted to be Queen singing in the shower all his life.  People told him he was pretty good, mostly to make him feel good, or because they had no concept of what is good, or they are tone deaf, so then one day he auditions for American Idol, even though he is clearly un-American with his fake Australian accent and lack of sufficient adoration for Baseball and Squeaky Cheese.
Did I take that a bit too far?  I hope so.
Oh, and Paula's comment: "My chihuahua is going to join you on stage." I'm not sure that's a compliment – bowww wowwww wowwwww.
Syesha
Well, my woman finally knocked one out of the park for me. It still doesn't stand up to Fantasia's original rendition of it – no one can sing that song like Fantasia. She does get credit for doing everything that you're absolutely not supposed to do for two weeks in a row: 1) sing songs by mariah, whitney, or celine and 2) sing songs that other American Idol contestant made memorable.  Props for the bravery.1
Can I just take this opportunity to lament the fact that we have no women in the competition this year who can take the paint off the walls with their voice? What happened to voices like Melinda, LaKisha, Mandisa, Latoya, Fantasia, or even Jordin?
I'm disappointed.
Jason
This week Jason seems to be channeling the leprechauns with his green leggings and rhinestone studded double v-neck shirts.
What was this song? My first thought was, how dare you sing my Katherine McPhee song? Then TLB informed me that the person who originated this prancing through the meadow leprechaun version sang it so much better. I'll believe her.
I like the arrangement (even though the ukulele was a bit much) but the whole Jason Castro thing is still a little elven for me.  I feel like his demographic is quite limited.
Awesome mouth move though… (if you followed me at all last year, you know I'm obsessive about singer's mouth movements and if they bug me)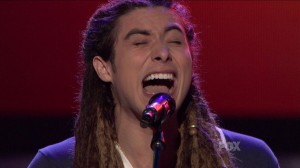 You would think by this mouth move that he was singing Korn, not some Kermit the Frog song…
Kristy Lee
I have a slight suspicion that Kristy has been reading my blog. In her video, she stole my lines… "everything will work out in the end." And also stole my line that we should always do what's right… even when it's stupid or no one agrees with it.
At the start of the song I was asking, "how did we get here? " Why is she still here? But I'm still glad she gets a nineteenth second chance.  Everyone needs one of those.
By the end I just couldn't freaking believe it. How, how, how did she do so well?!?! She is supposed to be tanking it! She's supposed to be on the down hill slope. She's supposed to be headed out. I'm afraid she even out sang my WoooMan Syesha…
I'm gonna say this about Kristy Lee.. I like how unaffected she is. She is just classically beautiful, not all put on, over made-up, and plastic like Carly.
I never thought I'd bring myself to do it.. but here's the Kristy Lee Video:
[flashvideo filename=video/top8-kristlee.flv /]
David Cook
I felt like this week was a step backward for David Cook. Maybe not a step backward, but certainly not a step forward. Perhaps the greatest evidence to date that he is way too into himself. Perhaps the most self-absorbed, stupid "I wrote something on my hand you need to pay attention to" was what pushed me over the edge.
Give me a break.
The white jacket was creepy and Michael Jackson-esque. Pompous maybe wasn't the right word… but it was a very self-absorbed performance.
Carly
I thought it was intense in the beginning, but I thought she lost her way toward the end there. It wasn't great. Her stock was over inflated by the judges early, and she still hasn't risen to the occasion.
Sidenote: Paula: How many is a bazillion?
David Archuleta
Of ALL THE SONGS in the world you could have picked… pllllllllllllease! Give me a break. That was a terrible pick. I don't understand. But then the judges loved the pick. I don't understand.
However, the "lick those lips" sign made the whole segment worth it.
Brooke
I had high expectations – I hoped last weeks slip would have spurred her to really knock one out this week, but unfortunately it was like a tacky lounge lizard version that you might hear in your local mall. That's just one step above freaky musak elevator music, for those of you who are keeping track.
And what's up with this pouty face…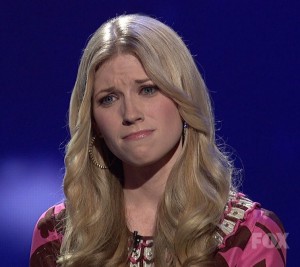 Did she get that tip from Ramiele before she left?  UGH!  Why must that little midget live on?!?
Conclusion
Was tonight a waste of our airwaves? I think maybe it was.
Here is my order based on tonight only:
Kristy Lee
David A
Syesha
Jason
Brooke
Michael
Carly
David Cook
Bottom 3 will be Brooke, Michael and Carly.